Right, lets not beat about the bush. Let's kick it off with the only real question; should you buy one?
Well…
Yes, if you want
a) to build up a lightweight bike
b) something raceable
c) a cyclocross bike that doesn't ride like a cyclocross bike
d) a bit of a headturner
e) to have disc brakes
OK
There you are.
You shouldn't buy one of you're convinced that disc brakes aren't worth it, you're addicted to Belgian style brands with unpronouncable names, or want something that will transmit EVERY SINGLE TINY VIBRATION directly to your arse (some people like that in a race frame).
Mine turned up just over a month ago, all wrapped up, unbuilt in a big, obvious box that was quite hard to get i the back of the car to take home from work, where I had it delivered.
I've put lots of bikes together before now so assembling it wasn't too onerous a task. It's mixture of "you've not really got a choice" Avid BB7 brakes and "lets be sensible" SRAM rival groupset (with an FSA gossamer 36/46t chainset) all slotted into position without much faff.
It's got one of those widgets so the bottom swing front mech works with the cable routing (which runs along the top tube…like it should on a bike that's going to be ridden in the mud). I don't really like them, they just turn into a nice mud shelf and the tight turn the cable has to do means more maintenance and cleaning is needed to keep everything shifting smoothly, but it's needed for the SRAM mech, so tough!
The rest of the finishing kit (all Planet X stuff) unsurprisngly fits nicely and results in a very 'together' looking package: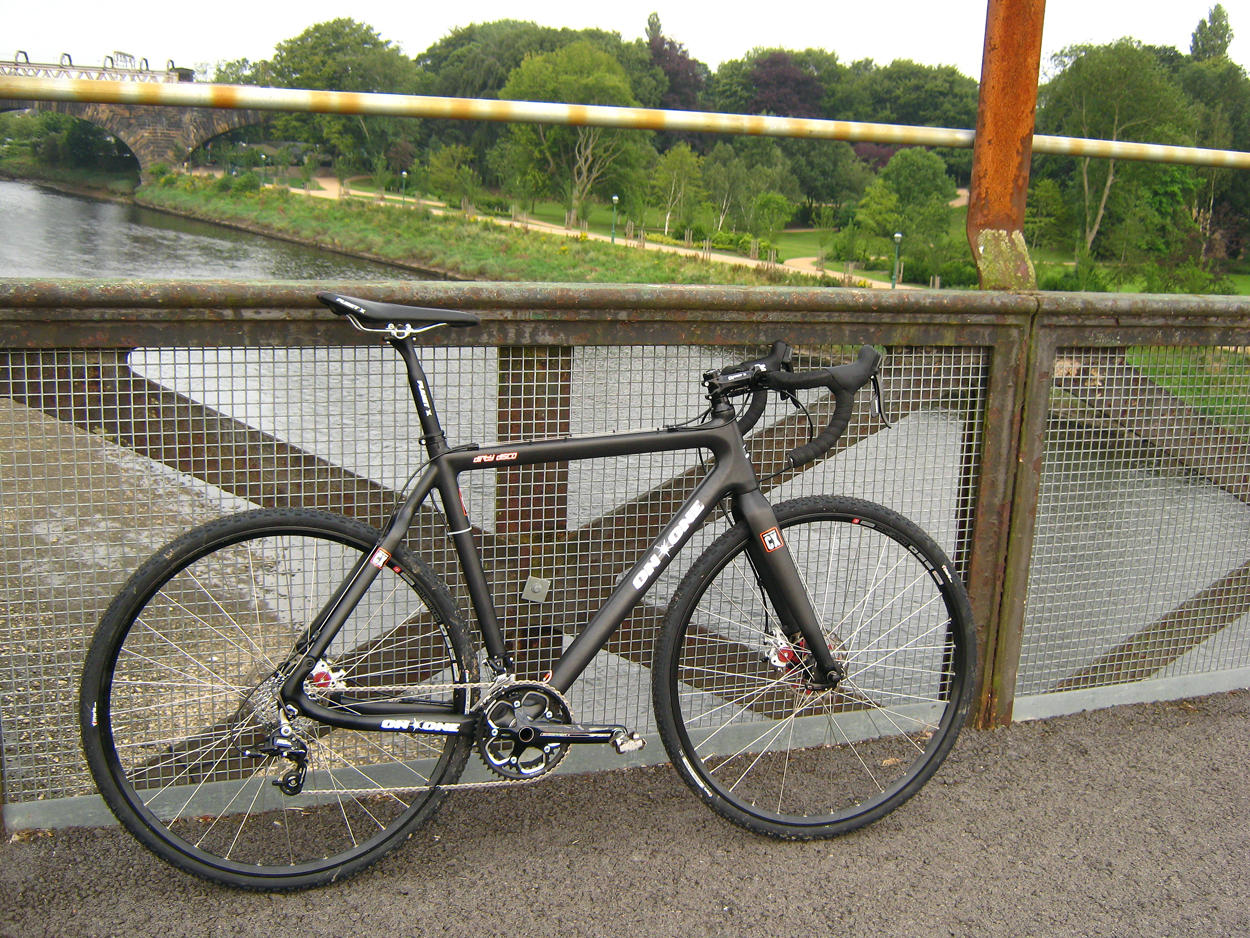 It was all stuck together in a couple of hours (once I'd located some spare brake cable outer, as the amount supplied with the STIs wasn't enough to run all the way from the rear caliper, along the cable route up the downtube and to the shifter/brake lever, luckily the need to add a barrel adjuster somewhere before the first cable guide on the frame means adding the extra bit isn't too much of a hassle) and once I'd bolted some rotors onto a space pair of 29er wheels it was ready to roll.
First impressions were, you won't be shocked to learn, good. Coming off several (happy) years riding an Uncle John I expected the dirty disco to feel very similar.
It didn't.
In a good way.
The 'large' sized frame, with 100mm stem seemed to fit my bog standard 5ft 11ins bodily proportions nicely, without having to jam the saddle as far forward/back as it would go, or using thousands of headset spacers to get the bars somewhere reachable.
Over the rough packhorse trails, rocks and gritstone that the trails 'round these parts' are made from the carbon muted the buzz and vibrations coming up from the wheels nicely. Less flex and twist from the rear end, partly due to the shorter chainstays partly due to everything being 'bigger, chunkier' etc meant staying on line was easier while the nice stiff bottom bracket (which looks huge when you're building the bike) meant stamping on the pedals never felt vague. The Gossamer cranks work well to compliment this, OK there are stiffer cranks out there but for the price they're great…certainly good enough to put a cross through any "couldn't get the power down" excuses you might have been planning!
A rather nervous first ride or two as I got used to riding off road on a cyclocross bike again (in fact, riding off road at all, after giving up slopping round muddy trails in favour of more road based stuff for months) didn't throw up too many surprises. Yes, it was easier to keep on line than the Uncle John, yes it felt a bit stiffer and more responsive under hard pedalling but it hadn't fired me off into the undergrowth at any point with some new handling quirk. It wasn't until I started getting pinch puncture after pinch puncture that I realised I'd started riding it like a 29er, after just a few hours on it.
The handling was faster, as you'd expect and, if I buggered up a route over rocks/roots I'd know about it (or just puncture, again!) but the cost in innertubes and repair kits seemed small fry in comparison to pushing the limits of what I could get away with each time the trail pointed down.
What you might be surprised to know is that I don't attribute much of that to one of the big selling points of the bike – the brakes. I sort of knew from the outset that the cable discs wouldn't offer up anything like the power or control on tap from the XT ones on the Lurcher but for the first few rides I wasn't even sure they were matching the Tektro Oryx cantis I'd been using on the Uncle John.
Last time I raced the 3 Peaks I had no issue braking (with the Oryxs) using only one finger and had no lack of stopping power hurtling (artistic license, OK?!) down Pen-y-Ghent. Skipping down from Darwen Tower on the Dirty Disco I was hauling on the levers for all I was worth with two fingers, feeling all the pressure I was applying disappear as the outer cable just compressed and contorted. I wasn't impressed. I was even less impressed when I discovered the stock pads had worn down to the backing plates within a week.
The whole "discs need less faffing to get set up right" plus point avengalists seem to spout repeatedly went out of the window as I hunted down some better pads and spent lots of time researching the best way to get the calipers/cables set up before finally finding a set up that offered enough power to be a worthwhile 'upgrade' over a canti braked bike. There's no less faff in setting the calipers up, you still have to manually adjust the brakes as the pads wear down and they will still get covered in mud and make horrible scraping sounds as soon as you ride in the wet, just like your rim brakes do. They can, however, offer more power, once you've finally found the set up sweet spot.
They won't wear your rims out either, which is nice.
Oh and if you get carried away flying round your local trails and knock your wheel out of true, provided it still fits through the frame/fork your' brakes will be fine. Hooray!
After a few short rides that didn't leave me feeling beaten up I decided to start using the bike for longer, more adventurous riding. All day rides that took in everything from twisting, winding country roads, over broken, semi forgotten byways and greenlanes, across endless feeling moors right through to bridleways that, if popular mountainbiking magazines are to be believed, really require a full suss. This, for me, is where it excelled.
Built up as it is in the pics, it weighed somewhere around the 20lb mark, not losing out by too much to many road bikes and with the tyres pumped right up, rolled quick enough to keep up with quite a few (somewhat confused) Sunday roadies. It didn't feel like a slog on the tarmac.
Once back off road, that almost mtb like confidence that appeared on the first rides meant that I was back pushing myself to go faster on the tricky bits rather than just creeping and picking my way over anything technical. I flew round a few big rides, each time adding more distance and off road to the route to see just how far I could ride and for how long before getting to that point where the bike simply wasn't a nice place to be anymore.
The longest I managed was 10 and a half hours, after which point I gave up trying, as that point simply wasn't coming!
The Dirty Disco is made for epics.
Of course, cyclocross bikes aren't often bought for their ability to do day long, monster length rides. Most people see cyclocross as something to do for an hour each week in a race. Flat out as fast as you can, actively seeking a new max heart rate in a local park while chasing down anyone in front of you in a race. All my dawn till dusk rides on it may have been fun, but I knew a 'cross bike is never fully tested until you've raced it, so last Sunday I found myself stood on the start line of the first round of the NWCCA league, wondering how much of an effect the lack of intervals and sprint raining was about to have on my performance, while simultaneously panicking about whether my freshly glued on tubular tyres would stay put on the lovely carbon Planet X rims.
The wheels, I should point out, were sent at the same time as the rest of the bike, but having no spare tubs meant I'd not ridden them until the day before the race, and even that had just been round the block a couple of times…
The gun went off and, from my position at the back of the field I set about testing the limits of the bike, working my way past racer after racer as my confidence in my glueing ability grew. The handling of the bike came into it's own on the seemingly endless sweeping, then tighter corners. Lots of overtaking round the inside of riders sliding wide on the greasy surface ensued!
Rather than fire you off every time you slithered on the off camber, piss wet through grass, the bike seemed to hold it's line really nicely – it worked with you, in fact at points I was imagining it looking up at me and saying "OK, you're no Sven Nys, but lets work with what we've got, eh?" which was both reassuring and utterly galling all at the same time!
The light weight meant that getting up to speed was dealt with quickly and shouldering the bike wasn't too uncomfortable. No canti brakes meant there was less for the churned up mud and grass to gather round and, despite only have the one bike, I never got near clogging the frame up.
My lowly 30th (out of 125) place was entirely my fault. I rolled over the finish line in no doubt that the bike wans't anywhere near it's limits with me in charge…a fact underlined by Dave Haygarth using his 'DD' to get right up in the top ten, in amongst the 'fast boys'.
I rode away feeling like I wanted to get some proper, more targeted training for future races done, to get more out of the bike. I'd have to fit them in between day long (and possible multi day) epics, but the bike seemed to deserve it…so that's what the bike will get. Lots of focus on, well, all sorts of riding. 🙂
Oh, nearly forgot, here's a list of what's died over the first 700 miles:
– FSA bottom bracket (luckily, the Gossamer cranks are compatible with Shimano/lots of aftermarket BBs, so you aren't tied to FSAs somewhat overpriced replacements)
– Vittoria XG clincher tyres (these are naff, but then you'll want to have different tyres for different conditions anyway I imagine)
– Gear cables (not convinced about having the outers routed under the bar tape – lots of extra tight corners mean more friction, especially if you're riding in the wet and mud a lot, once grit gets in there)
– Brake pads (I'm still caught in a quandry – do I go for softer, more 'grippy' pads that do add to the braking power but wear out FAST, or suffer less braking power with harder pads knowing that they'll still be working at the end of a ride!)
– Hub bearings and freehub (I've not talked about the wheels here as they're just some of my own. But the Deore hubs have taken a real pounding and, now I've replaced the bearings and freehub, are back as good as new)
And my planned upgrades/replacements:
– Better brake cable housing (less power lost in compression = a good thing)
– Use the PLanet X tubular disc wheels more, as they appear to be ace!
– That's it. Everythign else really is spot on 🙂